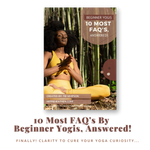 10 Most Frequently Asked
Yoga Beginner Questions
As an online yoga educator with an online community of more than 164K yoga enthusiasts, I get asked A LOT of questions daily. Here are the 10 most frequent questions from yoga beginners and enthusiasts.
I created this guide to serve as an introduction to yoga, and provide insight to many of you who are curious about the practice, but have questions.
If there are questions that you still have after reading this, I've most likely answered them in my beginner's Guide To Yoga. It covers everything from the different styles of yoga and how to choose the right one for you; the benefits of yoga; what yoga tools you'll need; how to get started, and other valuable resources to begin a successful yoga
practice.
Get Freebie Here